Benefit from your own Executive Office or Suite at a fraction of the cost of a large office lease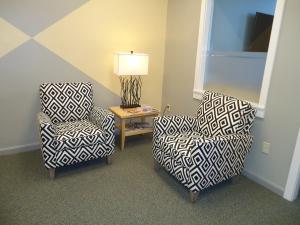 Six City Center offers fully-furnished, ready-to-use private offices in an historic office building in the heart of Portland's financial, judicial and arts districts. Six City Center makes the executive office you need easy at only a fraction of the cost of setting up a conventional office.
Whether you own a small start-up business or an international well-established company, Six City Center Executive Offices can help you get the most out of your office space. Leases can be structured by the month, year or longer to meet your terms. Lease rates start at an all-inclusive price of just $600 per month. Our offices range in size from 9 x 10 to 18 x 11 square feet and are accessed by a secure elevator and security system. You can view the floor plan here. From the spacious executive boardroom to the fully furnished kitchen, internet access and TV, you'll find it all. We also have spectacular views of the Portland Harbor, City Center and city skyline.
As you would expect in an executive setting, the center offers a wide array of office services to support your office needs – a full-time receptionist, state of the art telephone system, unlimited local and long distance calls, personalized telephone answering, forwarding and voicemail, a variety of mailing services, copy/print/fax/scanning, a full kitchen, wireless and hard wired high-speed internet access, gourmet coffees and teas and other optional administrative support services and technology. Our goal is to provide you the time and energy to run your business. Let us do the rest.
Who uses our Executive Office, and why they are right for you?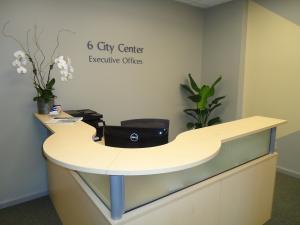 In today's dynamic business environment, you want professional services to meet your needs because your business needs are ever-changing. At Six City Center Executive Offices, we offer varied administrative services and flexible lease terms.
Our executive offices are ideal for attorneys, accountants, consultants, financial advisors, insurance professionals, appraisers, sole proprietors, entrepreneurs and branch and satellite facilities for larger organizations. In addition, legal professionals benefit from the proximity to the State, Federal and Bankruptcy court buildings only two short blocks away. The modern and well-appointed offices set in an historic building create just the right professional image.
We have the amenities you want and need!
The amenities enjoyed by our executive offices include everything you would expect to enjoy in a large corporate environment including professionally and tastefully furnished offices, reception and waiting area and spacious boardroom. Within one block of the offices you will find an unparalleled variety of excellent restaurants, banks, coffee shops, copy centers, fitness facilities, bus stops, an office supply store, etc.
All this is also within three blocks of the Portland waterfront and Portland's Old Port which you can see from several of our offices. Surface and garage parking surrounds the building, and there is easy access to and from I-295/I-95 and Portland International Jetport.
What do our Executive Offices look like?
Click
this link to view
a gallery of images showing the building as well as the ready­-to-­use office and meeting spaces available. We offer space at a fraction of the cost of a conventional office lease and do not require a multi-­year commitment.
Location, Location, Location
Six City Center is at the center of Portland's business hub. The surrounding finance, arts, judicial and old port districts are home to every business imaginable and some of the best shopping and dining in New England; this area of Portland truly has it all!
From the North
Get on I-295 South to Portland, take Exit 7 from I-295 South, Continue on US-1 ALT N/Franklin St. Turn right onto Congress St. Turn left onto Temple St. Turn right onto Spring St and your destination will be on your left.
From the South
Get on I-295 North to Forest Ave. in Portland. Take exit 6A from I-295 North. Continue on Forest Ave. Turn left onto Congress St. Turn right onto Brown St. Turn left onto Free St. Turn right onto Cross St and the destination will be on the left.

Request info or a tour of our office spaces
Whether you're seeking a single office, an office suite, or plan to expand in the future, we can accommodate your needs. Contact us today and allow us to show you exactly what sets us apart. Tours of our private office space are available Monday through Friday 9AM to 5 PM.
You can submit a tour request with your name, company and info along with a date and time that works for you. Let us know what you are interested in or, if you need have questions, call us or email us at [email protected].